Poll: Your Worst Design Mistake
OK, it's time to fess up. I want to hear about your worst design mistake.
"Design" in this case can mean visual design, user interface design, product design, code design (software architecture)… basically anything you determined how it'd be made or fit together.
I'd like to hear about something that made it to "production," or almost did, not something that was strangled in its infancy. And it doesn't count if you weren't trying to do a good job.
Me First
I used to be a real procrastinator, so most of my worst designs only occupied my attention for a few hours before they were consigned to the "Old Projects" folder, and therefore never actually produced. But I want to talk about one that made it "live" (in this case, to the client).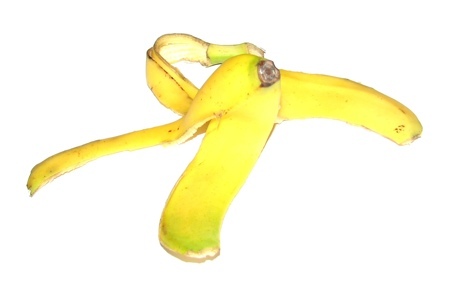 Hello, yes, design me some crap…
My story goes something like this…
It was ~2003. I was doing some subcontracting for a friend. The friend's client was a guy who owned a company that produced a tool that kept dog kennels cool. He was all excited; I was supposed to be designing his new logo and web site (the originals were truly disgusting).
I should have paid more attention to the originals. Before long, this guy had me adding gradients from "cold to hot" (blue to red), icicles, and more. At first, I found the entire process incredibly dubious. I was a bit cash poor at the time, though, so I said nothing. But near the end, I was kinda getting into it. Sure, it looked silly… but I told myself it was cartoony, charming. It's not like anyone is expecting a morose professionalism from people who make ice pads for dogs, right? So I attacked what the client said he wanted with gusto.
The final logo did indeed have a gradient, and icicles hanging off it. The letters were all cockeyed. I thought it was kind of cute. The client was overjoyed—he LOVED it.
Until a week later, when my friend fielded a phone call from the client, totally irate, yelling about my "kindergarten crap" and demanding a refund. He didn't get it, of course, but I was a little shaken anyway.
Hopefully we both learned a lesson. I'm not so sure about him, but I learned that there's a "morning after" for designs as well as drunken debauchery. It's a consultant's job to make the client happy, but that doesn't always mean doing what he wants today.
But wait, there's more!
I feel like that's not a dramatic enough example so I thought I'd give another one. I've been very lucky in that I've never made a design mistake that, say, cost people a bunch of money. That I know of, that is. That'd make for a better story, though. Now a business or technical mistake, that's another animal entirely. I've made lots of big mistakes in those categories.
But I digress. Onwards, to more mistakenness…
Oh, we'll just trust them to not be stupid (HAHAHAH)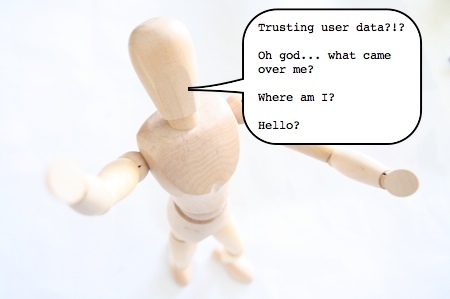 Back in the bad old days when I did PHP consulting, I had many a customer decide to forgo form data validation (beyond empties) when they looked at how many hours it took up on my proposal's breakdown. And, reader, I let them.
I used to be one of the bad guys.
Mea culpa.
Your Turn
Well, I'm feeling cleansed (in my dreams, by one of those $10 bars of soap, mmm minty).
Now it's your turn.
And folks, please don't disclose anything that might cause harm to somebody's business 🙂