RJS Demystified With Pretty Colors!
I probably should have spent the time today to fix the slash7 template, but my heart wasn't in it. My heart was, on the other hand, in this: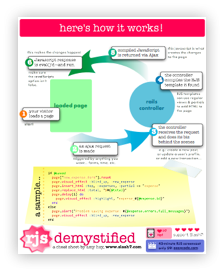 That's a screenshot of the second page of my first-ever multi-page cheat sheet, RJS Demystified. RJS Demystified is actually an entire 3 pages long, all in achingly saturated color. Well, except for that third page, which is mostly text.
Since I'm still in the process of buffing up the new Mephisto-powered site, let's keep this cheat sheet launch low-key. Feel free to pass it around to your friends and loved ones (or even your enemies, if you are so inclined), but please resist the urge to stick it on Digg or anything like that. I'm not ready to take another Digging just yet.
Ego Alert: And yes, I'm making the presumptuous assumption presumption that if it went onto Digg, it'd probably be pretty popular. You and I both know how those Diggers are about Ajax—like rabid bunnies.
Let me know what you think!