Designing for Humans
The below article should appear in the July issue of the UK internet mag, .net (unrelated to the Microsoft framework, ewww). Since I know few of you will have access to the issue, I thought I'd post it here, too. But in case you are so geographically inclined, it never hurts to support a decent publication!
At my recent usability workshop, I asked attendees the following question: "How many of you religiously keep your project management software up to date? Adding tasks when you learn about them, and checking them off when done?"
Out of nearly 40 people, there were no raised hands. None!
How about you? Would you have raised your hand? Do you keep up with your electronic to-do lists? How about your email?
Twenty-five years ago, an email client was simply a collection of directories, which showed lists of messages by sender, subject, and date. You could browse, read, respond, file or delete messages—all through a command-line interface. The fancier versions let you view your message in a "pane" below the message list.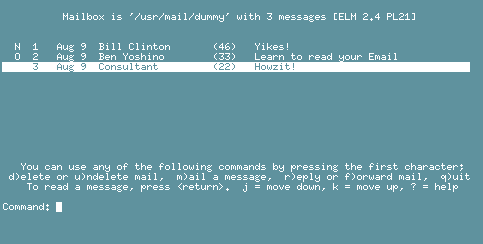 Sounds pretty familiar, doesn't it? That's because email clients haven't evolved much in the past quarter century. Sure, they've gotten prettier—and added more columns to their list view. But essentially they approach the business of email with the same interaction model as the command-line clients of yore.
And email is now a hassle for almost everyone. Just like those project management apps, email clients don't take into account the real behavior of real humans.
Email is often the main communication medium in business, carrying critical conversation, information, tasks, and files. This is no great revelation, I know, since everyone uses email.
But then why isn't the software better? Why don't they give you a way to select a portion of a message and mark it as "the main point" for later? Or to extract a to-do item from any sentence? To browse all files sent by a certain person or a group of people? Or simply get an overview of who is talking about what from a person-centric view? Or show you only emails from "important people" which have gone unanswered?
How many hours do people waste trying to make their email clients work for them?
It isn't always this way. We've all used software that is more than just effective, but positively delightful because it almost intuits what we need it for. That effect isn't magic, but the result of hard work and a good understanding of people.
I think all most designers and developers need is a solid grounding in ethnography plus a willingness to question the status quo. By understanding the way actual people really use email (or whatever), what context is has in their lives, designers & developers can approach human problems with human solutions. The technology is already here and has been here. The next trailblazers will be those who focus on the people problems created by software and what software can do to solve them.
Luckily for us, human nature has been a human interest for thousands of years.
I have a lot more to say on this topic and several articles brewing. But it was really an interesting challenge to compose a piece within the limits of a deadline and word limit. I haven't written for a magazine for years and I really had a blast, so thanks, Oliver, for the opportunity!
Talk to me
How do you use email?
What's your favorite email client?
If you had a magic wand of Software Improvement, what would you make it do differently?