Remember Kids, Web != Print
One of the biggest sins you can commit when designing a web site is acting as if you're designing for print. The web is not print. The elements of design which carry over from print are there, to be sure, but they are extremely non-specific (e.g., spacing of text headings). Computer interfaces are not static, they are much lower resolution than paper, and importantly, people don't use them the same way. This is part of why nothing's killed paper publishing yet…
Here's example number one of what not to do: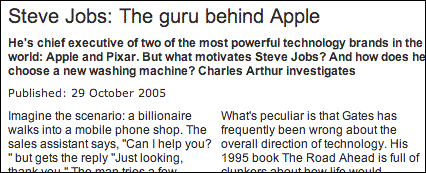 Usually the painful print legacies have to do with huge images, images instead of text, and that sort of thing. This isn't one you see every day, but it's an especially idiotic decision. Does no one at The Independent ever try to read articles on their own site?
You don't have to scroll a newspaper. Their web site, on the other hand, is impossible to read comfortably. Sometimes you can get away with multiple columns of text—if they are separate content pieces, and if they are far enough apart that the right column doesn't continuously confuse the reader's eyes.
OK, end rant.
Update
I wrote a follow up here. Thanks, Misuba.